Centre Stage BackdropRecommended Grooming Kit - Shopping List!
Recommended Grooming Kit - Shopping List!
Grooming Kit
A good grooming kit will seriously help your maintenance sessions at home, allowing your groomer to get on with the job of creating a fabulous style for your dog and not waste time firefighting your dog's matting.
During the Covid-19 lockdown in March 2020, I did a series of videos for Bella & Duke Dog Food covering all aspects of grooming.
The bathing and brushing videos will be invaluable for your home-maintenance routines in between professional grooms. The clients who have watched them and are incorporating these tips are obvious, their dogs are coming in clean and knot-free for their appointments.
These were so successful that Wildwash asked me to do a series for them too. These are more professional and more detailed than the Bella and Duke ones and can be viewed here.
Subscribe
Please feel free to join the "Weakly Rant" for updates. You read past issues and subscribe here.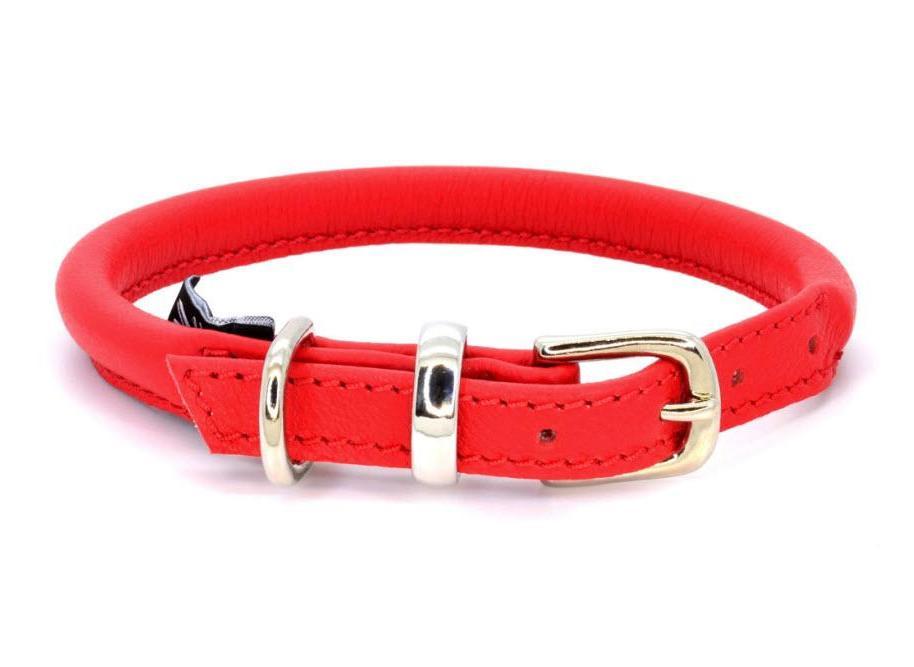 The Dogs and Horses Rolled Leather Collar is, quite simply, the best to be found in the UK today. They are hand made by artisan craftsmen in London. If you have a dog with a coat that mats up, this is an essential bit of kit to PREVENT that matting. They come in a range of stunning colours and thre are traditional style padded collars in the range too, so every breed and crossbreed is catered for. One of these for each of my dogs is definitely on my Christmas List this year!
I use Wildwash Dark and Greasy or Wildwash Light Coloured Coats on your dogs. This is professional strength shampoo and needs to be diluted 32:1. If you bring an empty pot in I will happily refill it for you at the princely sum of £10.00. (We like to keep plastic out of landfill whenever we can).
OK, I'm probably going to get into trouble for posting this as it's not an "animal" product. After you've washed these once (a necessity) these make the most AMAZING face wipes for your dog in the bath. They remove all that stinky eye odour that Shih Tzu type breeds seem to get and are incredibly gentle in the corners of the eyes. The lip fold area can also get very gunky and these just "erase" those stains and smells with just plain water. Simply amazeballs. You can't live without them.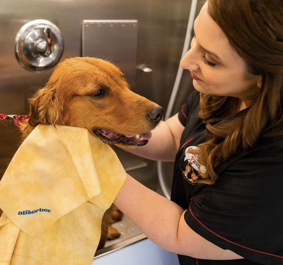 Drying your dog is SO MUCH EASIER if you blot them first with these towels. I'd recommend at least 3, one to sit on and two to wrap around your dog.
Use the discount code CSAP22 on the Absorber Pro Dry website!
After you've washed and blotted your dog, a light spritz through the coat with this product will help with the tangles and matted areas before you start drying. It will also leave that lovely silky smooth finish.
You don't need a professional grooming table, but you do need a safe non slip, waist high area to groom your dog. These portable tables are about £80 each and ideal if you can afford one but a rubber car mat on the dining room table will suffice at a push.
A blaster really is the way forward for any fleece coated dog owners. Look for a stepless one, with at least 2800w of power. It must include a fan nozzle (the first one in this pic) as that's the only one you'll be using. Your own handheld hairdryer can be used on a cool setting, but depending on the density of your dog's coat, this will take a while.
A "soft" flexible slicker brush. These mould around the contours of your dog so you don't get "pockets' of matting in the armpits and behind ears. Use this whilst drying to get a straight, knot-free coat. I have a couple of these left if you want to pick one up next time your dog comes in for a groom.
Use the code CTP22 for a discount on any of Colin's superb brushes or combs.
Colin Taylor's "Sassy" comb. You'll need this when you think you've finished brushing. It will find all the problem areas that you thought were knot-free. Not all combs are equal. Some are simply a head and shoulders above the rest in quality and what they can do. My go-to combs of choice come from the Colin Taylor Range. You may well think that £30-40 is expensive for a comb. Do go ahead and try one of the £3 eBay ones... and you'll find out why I don't recommend them! The creme-de-la-creme of combs come from Utsumi. I use their Halfmoon comb on every fleece coated dog. (If you thought the Colin Taylor range was expensive, these will make your eyes water.)
To learn how to use these tools watch this video. Combs are for checking your brushing NOT DEMATTING. Brush thoroughly then see if the comb will glide through. Wherever it stops and snags, you need to do more brushing.
These Roseline Thinners will last you a lifetime and they're terribly forgiving in a novice's hands. Think of them as the "groomers eraser".
I've got about 5 pairs of these cheap curved 5" scissors. They're brilliant for feet and fringes, but because they're made out of cheap steel they blunt very quickly unless you are only using them on 100% clean fur.
These incredibly cheap and cheerful trimmers are great for ears, sanitary and pads but will not cope with a full clip off. I have three pairs of them knocking around, it was cheaper to buy a new set than a single blade for the Aescuap or Wahl mini trimmers I have.
The only clippers I can personally recommend is the Heiniger Saphir. This clipper takes a standard "A5" snap-on blade, or the new Wide Blades. The higher the blade number, the shorter it will cut. A No. 50 blade is a surgical shave and will take the coat right down to the skin. A 4f blade will produce a good, short clip off on a well-maintained coat. Matted coats require a 7f, 10 or 15 blade.

Clipping a dog can be dangerous, requires training and skill and is not for the faint-hearted.